18 Super Cheap Dates To Go On In Montreal For $20, $50, & $100
More than just dinner and a movie!
There are pretty insane dates that you can go on in Montreal, but most people think that it comes at a cost. The truth is, that you can have epic dates at any price! Trust me, you can plan a A1 level date without spending a dime or, if you prefer you can have an epic date and drop some bills!
READ ALSO: Montreal Is Hosting A Huge Lebanese Food Festival
Whether it be a first date, or a date with your long term partner,  there are always struggles that come with planning something epic especially if you are on a budget. So, pick your price and find something amazing you can do for either $20, $50, or $100!
For $20 Date Ideas, Click "NEXT"
$20 Date Ideas:
1. Piknic Electronik
via @blondieq
PRICE: $15 EACH
Piknic Eletronik is always a great way to listen to music, relax, and enjoy Montreal with your bae! Not only is it cheap since tickets are only $15, but you can invite all your friends as well without reservation and drink up with your bae and all your friends. Trust me, you will dance the night away every Sunday!
2. Try Rockclimbing At Allez Up
via @allezupmtl
PRICE: $20 EACH
For that fit date of yours, why not surprise her and finally take her to Allez Up! Here you two can rock climb your night away and have a blast as you work out that upper body. It is honestly super fun and a great way to try something new without traveling very far for spending over $20.
3. Go To Au Sommet Place Ville Marie
via @youngkarissa
PRICE: $15-19 EACH
See all of Montreal on your first date with your best bae for cheap! The Montreal Observatory is absolutely stunning and very romantic especially if you go at night under the stars.
4. Have Sangria At The Floating Boat Cafe
via @cam_ds
PRICE: $22 A Bottle
Atwater Market
Ok, you ABSOLUTELY MUST check out Canal Lounge Cafe Flottant! For only $22 you and you bae can have a FULL bottle of sangria as you sit on the terrasse located on top of the boat. It is absolutely stunning and my new favorite place!
5. Montreal Museum Of Fine Arts
via @onnajanisch_
PRICE: $15 EACH
1380 Rue Sherbrooke O, Montréal, QC H3G 1J5
The Montreal Museum of Fine Arts contains beautiful art galleries with hundreds of paintings and archeological artifacts such as mosaics, frescoes, statues, and much more! It's a great way to enjoy a lovely day with you best bae.
6. Botanical Gardens
via @deananic
PRICE: 18$ EACH
Step into the almost spa-like setting of the Main Exhibition Greenhouse, where the heat and the flowers' sweet fragrance help you forget winter. You are surrounded by lush greenery, filling you with a sense of lightness and inviting you to relax with your date while enjoying spring showers!
For $50 First Date Ideas, Click "NEXT"
$50 First Date Ideas:
1. Spa Day At Bota Bota
via @bloglecahier
PRICE: $45 EACH
Ah yes, the perfect way to relax with as a broke babe is by treating yourselves to a spa day. Personally, I recommend Bota Bota since it is only $45 before 11 am and after 6pm for their water circuit. Not only do you relax, but you also get to see Montreal from a whole other angle with the stunning views from their outdoor section!
2. Go Surfing Together
via @eli.letourneau
PRICE: $40
Suite 01, 9520 Boulevard Leduc
Summer is almost here, but not quite just yet! So, if you happen to be dating a Montrealer that just can't get enough of summer, I suggest heading to Oasis Surf if you want to celebrate the nice weather! It's honestly amazing and a great way to show your bae that you have an adventurous side. Plus it's a great bar!
3. Paint The Nite
via @preetgrewall
PRICE: 45$ EACH
Since you probably love having fun but just happen to be bored lately in MTL, I suggest checking out Paint the Nite. Montreal gladly hosts multiple events at local bars. Simply go on their website and choose an event, which has a specific theme, and buy your tickets. Here, you will drink up, paint, and share amazing memories with date as you look back at your beautiful paintings.
via @alicia_baron
PRICE: $30 EACH
4338 St-Denis, Montréal, QC H2J 2K8
One of my personal favorite places is Le Céramic Café. A great place where you and your broke babes can create art, relax, enjoy food, and overall have fun together! You can choose whichever mold you like and the fun takes off from there!
5. Go To A Cooking Class At Atelier & Saveurs
via @vanessajourdain
PRICE: $22-50 EACH
Have fun and enjoy a French inspired meal that will impress your date AF! It's about $40 to cook at Atelier & Saveurs and honestly a blast! This is a great new date because you both will be busy cooking but also talking and making great memories with a delicious dinner as a result... I hope!
6. Get Dessert At C'ChoColat
via @rockychows
PRICE: $50 TOGETHER
Featuring the famous chocolate bomb, candy milkshakes, and nutella sushi, C'ChoColat will 514% impress your date! It's located in the heart of down town Montreal and trust me it will be nothing short but amazing.
For $100 Date, Ideas Click "NEXT"
$100 Date Ideas:
1. Go See The Show VOLTA
via @sinemhalli
PRICE: $75-100 EACH
This year's new Cirque du Soleilshow had a brand new theme unlike any of the other themes from previous years. VOLTA combines the world of action sports in an urban setting while maintaining some of the more classic Cirque du Soleil acts. It's a new show with a brand new theme that you and your DATE MUST go see!
2. Terrasse Nelligan
via @kolavig
PRICE: $100
My personal favorite terrasse happens to be Terrasse Nelligan located in the heart of Old Montreal. It is absolutely stunning! The views are amazing considering that this terrasse is a rooftop with a view of the Basilica on one side and the water front on the other side. They have amazing fish tacos and even more spectacular sangria pitchers that you and your girlfriend will obsess over!
3. Horseback Riding
via @kattykat73
PRICE: $100 for 2 people (2 hours VIP any day)
1271 Chemin Saint Louis, Saint-Lazare
For something new to try while remaining fancy, why not try horseback in St. Lazare! The horse ranch at St. Lazare is only 15 minutes from downtown Montreal where they offer horseback riding indoors, outdoors, and on a trail through the sunset. This is a great fun activity to try during the summer if your date loves animals and adventures.
4. Rent An Aibnb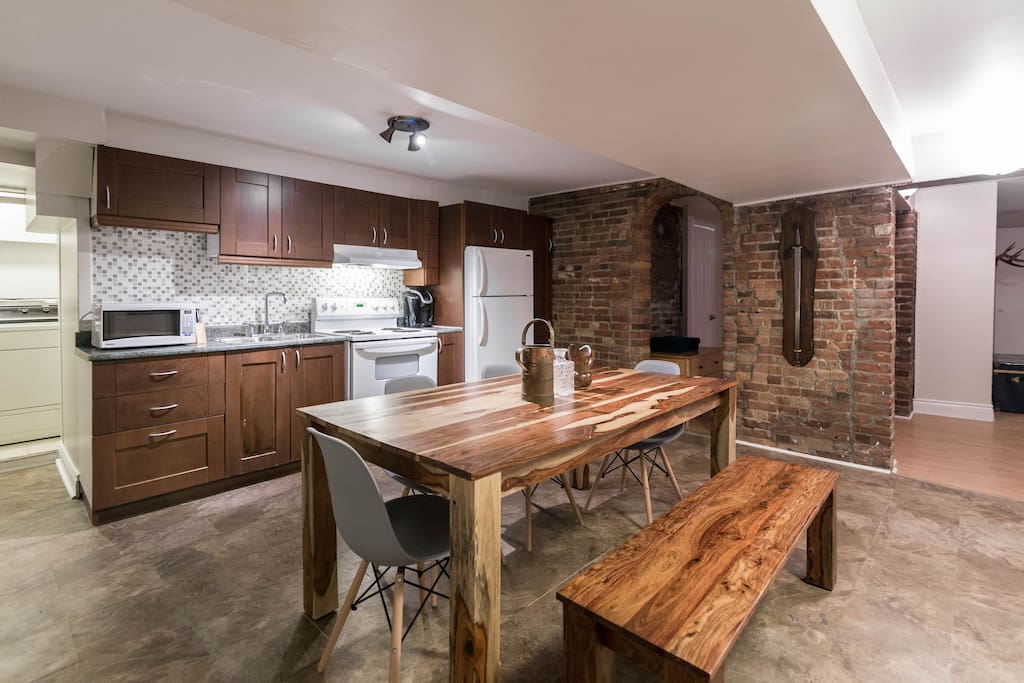 Via Airbnb
Features:

2 bedrooms, 1 bathrooms
located right off St. Laurent
seconds from the city's best nightclubs, bars, cafes & restaurants
In the heart of the Plateau

Accommodates: 8 people
Rental Fee: $100/night
5. Check Out Comiccon
via @geeksaresexy
PRICE: VARIES ($79 each for 3 days)
Comiccon isn't for everyone, but if you and your girlfriend happen to be a couple that just loves comiccon, like me and my boyfriend, then I 514% bet that you will have a blast at the Montreal Comiccon this July (07 TO 09).
6. Boozy Brunch At Terrasses Bonsecours
via @anastasiahoward
PRICE: AROUND $100
Get your hands on some fruity, boozy, and delightful mimosas with your date next Sunday at Terrasses Bonsecours' boozy brunch! You can drink up, enjoy the weather, and get to know your date.