10 Montreal-Made Martinis You Must Drink Before You Die (Another Day)
Even Oddjob would love these drinks.
Photo cred - The way to wonder
The martini is generally thought of as an acquired taste, and you might think that you're not into the drink. Thankfully, the city is loaded with bars and restaurants that whip up delicious versions of the classic cocktail and are sure to change your mind. Even if they don't, keep in mind that they were good enough for James Bond, so they should be good enough for you (though it should be noted that he drank vodkatinis, which don't really count). Here are the best Montreal martinis.
Lawrence
You might have to wait a while to get a table at this classy bistro, but the martini makes it well worth the wait. In addition to the delicious drink, their menu is filled with tasty entrées like grilled lamb's liver and exotic main dishes like oxtail and tongue. The bottom line is, you'll have no problem finding food to go with your cocktail.
Le Chien Fumant
We recently wrote about how much we dig the Eggs Benedict (link) here, and their martinis are equally worthy of praise. They're nice and strong, just the way you like them. They don't come cheap, like most of the stuff on the menu here, but they're well worth the steep price.
Baldwin Barmacie
The menu here is filled with amazing cocktails (link), but their martinis very well might be our favourite. Even better, you can combine it with one of our other favourite cocktails: the Bloody Mary. They dump a splash of Bloody Mary mix into a dirty martini to make a tangy cocktail with a kick.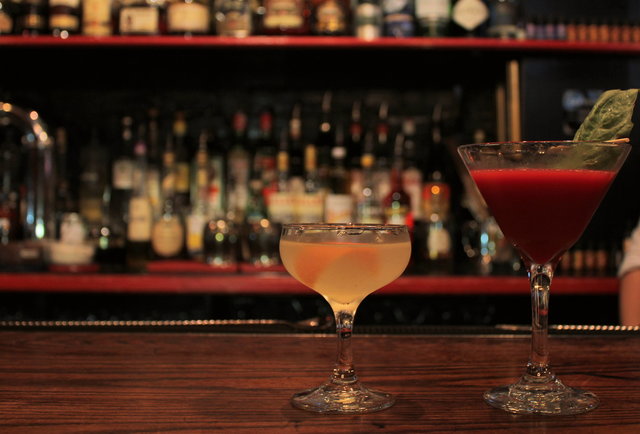 Photo Cred - Thrillist
Le Lab
The martini at this cocktail bar is like nothing we've ever had, and we mean that in the best possible way. It's flavoured with cucumber and kiwi, making for a unique and unforgettable drink. They also use plenty of Bombay Sapphire gin, meaning that you're sure to feel the effects pretty quickly.
Deville Diner Bar
Drinkers looking to broaden their martini palette will definitely want to head here. They've got one-of-a-kind creations like the Oprah's Pomegranate Martini, which is made of tequila (which makes it not really a martini, but you won't complain once you taste it), lime juice, and more. They've also got the yummy Tyler Mint Berry Martini, which consists of rum (again, pushing the definition of martini, but just drink it and don't worry about it), strawberry puree, and more delicious ingredients.
L'Assommoir
This place is simply one of the classiest joints in the city, and their elegance is easy to see when you take a sip of their martini. It's made with a parsnip based gin, and flavoured with truffled peaches. It's not exactly cheap, but neither are most drinks this good.
La Belle et La Bouef
If you're looking for a classic martini, you might not find what you're looking for here, but you will find plenty of tasty drinks if you're okay with branching out. We particularly love the Guns N' Roses, which is made with lime and a nice helping of Hendrick's Gin. It's easy to lose track of the martinis amongst all the amazing cocktails here, but you'll want to be sure to seek them out.
Suite 701
They serve a whopping ten different martinis here, so you're sure to find something that suits your needs. If you're looking to go sweet, try the Watermelon Martini, which is flavoured with Midori and cranberry juice. However, if you've got less of a sweet tooth, give the Vesper a shot, which is made with Grey Goose and Tanqueray.
Photo Cred - Professor Bop
Kitchen Galerie Poisson
There aren't many foods that go better with martinis than oysters, and you'll be able to get delicious versions of both served here. They offer a wide variety of incredibly fresh oysters, and you can wash them down with a deliciously dirty martini made with Hendricks gin. Yum.
Photo Cred - City Eats
Saiko Bistrot Izakaya
You might think that a Japanese restaurant wouldn't make a good martini, but this place will prove you wrong. It goes particularly well with their tasty tempura, but there's really no wrong way to drink a martini.
For more, follow Max on Twitter @mbled210