Best Montreal Falafels
The finest ground chickpeas in town.
Montreal is known for its wide variety of ethnic cuisines. Of all of the delicious exotic foods the city has to offer, though, one of our favorites has always been the falafel. Whether you're looking for the perfect way to satisfy your craving when you're hammered at 3 AM, or just looking for a cheap but great lunch option, falafels have a magical ability to give you what you need. Here are our favorite falafel places in the city.
Basha West Island
3339 Boulevard des Sources, Dollard-des-Ormeaux
Don't come here looking for a reinvention of the falafel, but do come expecting a version of the dish that'll be everything you could ask for and more. They serve up the delicious fried chickpea balls in a sandwich packed full of veggies and hummus, or on a combo plate with a side salad and rice. Either way, you'll be in falafel heaven.
Boustan
Various Locations
Their "secret menu" sandwich "The Creation" may be the real star at this place, but even without looking past the regular menu you can find a delicious falafel pita. They load it up with their famous garlic sauce for a delectable treat. If you can't get enough of the sauce (and let's be honest, who can?), get a heap of it on your potatoes for the perfect side dish to your sandwich.
Green Panther
Various Locations
They're known as a health food restaurant, but their commitment to nutrition doesn't lead to any sacrifices in taste, particularly when it comes to their falafel sandwiches. They stuff their pitas with yummy extras like sprouts, pickles, carrots, and sauerkraut. Wash it down with one of their smoothies for a deliciously filling meal.
Restaurant Nilufar
If you're a little short of cash, but still jonesing for some ground chickpeas, this is the place for you. At just $1.29 for their falafel pita, you'll be able to get your fix without putting too much of a strain on your wallet. If you're feeling extravagant, you can even upgrade to the trio for just $3.50. Eating on a tight budget never tasted this good.
Boucherie Abu Elias
733 Boulevard de la Cote Vertu
You can order sandwiches with hard-to-find meats like brain and raw liver at this butcher shop, or you can just get a damn good falafel done right. Either way, you're sure to have an eating experience you won't soon forget. In addition to getting a sandwich, you can also pick up a supply of falafels to take home, so you can keep your fridge stocked with chickpea balls for days.
Crazy Falafel
759 Boulevard de la Cote-Vertu
The name doesn't lie—it's crazy how good the falafel is at this hole-in-the wall. Their freshly squeezed juices make a great fruity compliment to the sandwiches. If you're in the mood for a more unique taste, give their french fry sandwich a try. They fill it with their signature golden fries, coleslaw, pickles, ketchup, and garlic sauce. It's the carb-orgy of goodness you didn't know you needed.
Chez Apo
Come here for a crunchy, flavourful falafel with that classic taste you're looking for. In addition to their tasty chickpea balls, Apo is also a bakery that's renowned for their lahmadjounes. These yummy flatbreads come loaded up with ground beef, tomato, onion, and a sprinkle of chili peppers for an added kick.
Trip de Bouffe
If you love falafel, you've got to make the "trip" to this Plateau restaurant. They serve up an authentic Lebanese falafel that's bursting with flavour and has just the right amount of "crispiness" on the outside. We've talked before about how good this place is, but we really can't emphasize it enough.
Falafel Abou Hanna
4660 Boulevard des Sources, Dollard-des-Ormeaux
This very well might be the best falafel sandwich you'll find in the West Island. They serve up their falafels quickly, but without sacrificing any of the taste you crave. They top it off with a healthy serving of veggies and a splash of taratour sauce for a glorious sandwich experience.
La Folie du Koshary
Unlike many Middle Eastern restaurants in Montreal, La Folie du Koshary is Egyptian rather than Lebanese. That means that you'll get your falafels made with fava beans rather than chickpeas, but don't worry, it's still got that classic crispiness you're looking for. If you're willing to expand your falafel palette a bit, don't hesitate to give this place a try.
Dahlia's Mediterranean Bistro
575 Boulevard Maisonneuve Ouest
If you like your falafels with some added spiciness, give this place a try. Their homemade hot sauce is sure to make your taste buds beg for mercy. On top of being hot as hell, though, it's full of rich flavours that bring out the best in their falafels. Don't be afraid to douse your sandwich with it!
Le Petit Alep
With all of the delicious food options in the Villeray neighbourhood, it's easy to miss out on this place. Make no mistake, though—they offer one of the best falafels in the city. They serve it up with tahini and a delicious blend of herbs for a sandwich you won't soon forget. After 4 PM, you can also get it served on finely chopped lettuce for a leafy alternative.
Sababa Grill
These guys know their seasonings. They add mint and coriander to their falafel, and the flavours compliment the chickpeas perfectly. On top of that, they grill them freshly to make a warm sandwich you'll eat up in no time. Order some of their mint tea along with it for an minty meal that you're sure to love.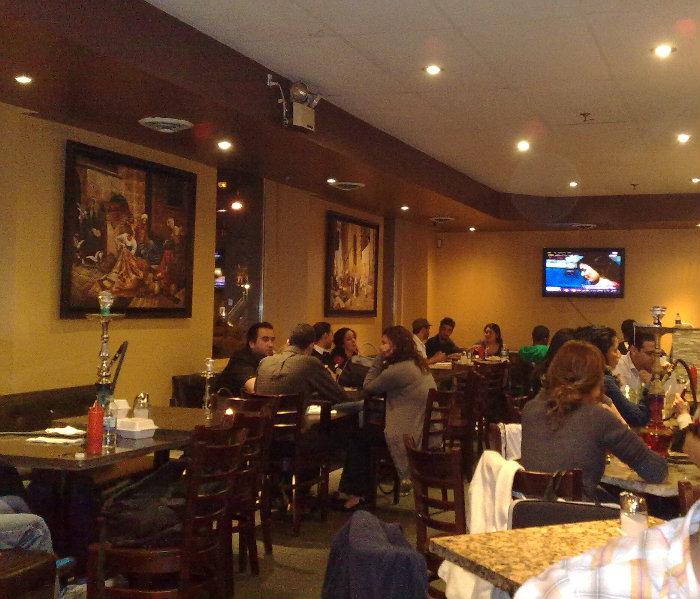 Resto-Cafe Shahrazad
Get your falafel with a side of hookah at this place. Not only do they offer tasty falafels, but they have a wide variety of shishas to satisfy your flavored tobacco needs. The laid-back atmosphere makes it a great place to hang out with friends and get a sampling of what Middle Eastern culture has to offer.
Amir
Various Locations
There's a good reason you'll find branches of this chain all over town--their falafel is delicious. With their late hours, you'll be able to enjoy them whenever your craving hits. Okay, maybe it doesn't have the classiest ambience, but it does have reasonably priced and delicious falafel.
Restaurant Sara
What better way could there be to cap off a night of partying on St-Laurent than with a yummy falafel pita sandwich? This place gives you exactly that, delivered quickly and affordably. Your stomach might not thank you in the morning, but your drunchies sure will.
Marché Adonis
Various Locations
You'd be excused for thinking that these markets are just normal grocery stores. But poke around a bit and you'll find a tasty and inexpensive falafel. Pick one up if you need some help getting through your shopping list, or just because you feel like snacking.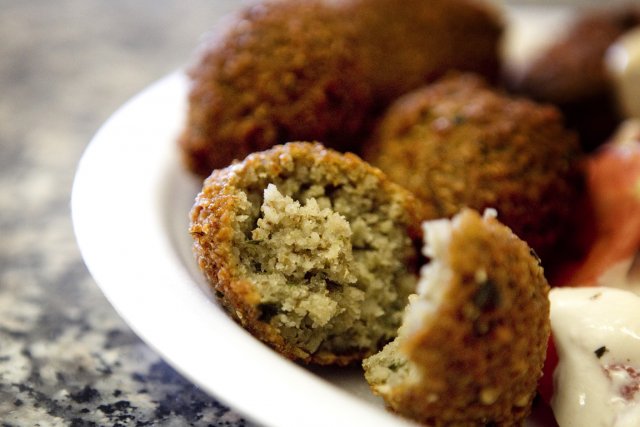 Falafel Freiha
They don't have a particularly deep menu here, but they do one thing well--falafel. The falafel goes perfectly with the turnips and pickles they generously pile inside of the pitas. They drown the insides with their wonderfully thick taratour sauce for the perfect final touch. If you're not in the mood for a sandwich, get a platter of six with the extra goodies on the side.
For more, follow Max on Twitter @mbled210