10 Must-See Montreal-Made Movies At The 2014 Fantasia Film Festival
Homegrown flicks with sexy dudes and chicks.
Photo Cred - La Presse
Between Jazz Fest and Just for Laughs, you might have festival fatigue, but you still owe it to yourself to check out the Fantasia International Film Festival. For three weeks, over 100 movies from around the world will be screened at eight theatres throughout the downtown area. Naturally, as Montrealers, the flicks that we're most stoked to check out are the ones made by filmmakers from Montreal and other places in Quebec. Here are 10 Montreal-made movies at Fantasia you need to see.
1987
Where: Imperial Theatre
When: August 4th at 7:30 p.m.
Writer-director Ricardo Trogi gives us yet another look at Quebec life in the 80's with this autobiographical film, the follow-up to his previous work, 1981. As with the last movie, the protagonist is a mildly fictionalized version of the director as an adolescent, a boy struggling to come to terms with his identity. The soundtrack (filled with your favourite 80's tunes), top-notch cast, and pitch-perfect writing do a terrific job of recreating the era, as well as telling a timeless coming-of-age story.
The Possession of Virginia (French: Le Diable est parmi nous)
Photo Cred - Psyquébélique
Where: J.A. De Seve Theatre
When: August 2nd at 7:00 p.m.
Take a trip back in time with the screening of the little-seen 1972 horror movie. The film tells the story of Paul, a journalist who gets wrapped up with the occult after his buddy commits suicide under bizarre circumstances. It has one of the first gory murders seen in a Quebecois film, as well as a killer (no pun intended) soundtrack featuring some awesome disco and funk sounds, both of which make it a relic of local film history that needs to be seen.
Dys-
Where: J.A. De Seve Theatre
When: August 1st at 7:30 p.m.
Writer-director Maude Michaud makes her feature debut with this horror film, the story of a relationship that gets severely affected by a strain of the flu that leads to a lockdown of local businesses, and eventually worse. As the former model Eva and her husband Sam cope with the outbreak, it begins to make its way into their home life, making for a devastating look at a seemingly perfect couple.
Photo Cred - Web Series Today
Les Jaunes - Le Film
Where: DB Clarke Theatre
When: August 3rd at 2:15 p.m.
More and more web series have been getting adaptations on bigger screens recently, and this show is the latest one. The show depicts the misadventures of the Quebecois LARPer Tom, and his struggles with the asshole-ish bully Syd. As frustrating as his problems with Syd are, he'll soon have much bigger problems to deal with (like zombies).
Blue Shining
Where: J.A. De Seve Theatre
When: July 20th at 9:15 p.m.
Have you ever wondered what The Shining would look like if it was directed by David Lynch? Wonder no more, because local experimental director Richard Vezina has created a short that integrates Lynchian elements into Kubrick's classic horror flick. No cinephile should miss this.
Photo Cred - Fantasia Festival
The Burglar
Where: DB Clarke Theatre
When: July 23rd at 9:15 p.m.
Slapstick comedy and kung fu action are two of our favourite film genres, and this movie gleefully integrates the two. The short tells the tale of a comically inept thief who breaks into a house, only to find out quickly that he made a big mistake.
Photo Cred - Fantasia Festival
Montréal Interdit
Where: Cinematheque Quebecoise
When: July 25th at 7:00 p.m.
Montreal is famous for its seedy side, and this documentary captures it well. It depicts some of the shadier parts of the city, like topless hairdressers, voodoo sessions, tarot readings, and more. Many of the people on film seem to be embarrassed, giving it an adorable cinema verité quality.
Luna et Solaris
Where: J.A. De Seve Theatre
When: July 31st at 9:30 p.m.
With all of the sleazy movies being shown at Fantasia, you might want a break from the grime, and this family-friendly animated short will do the trick perfectly. It depicts the adorable romance between Solaris, the sun entity, and Luna, the moon spirit. The charming visual style will be sure to win you over.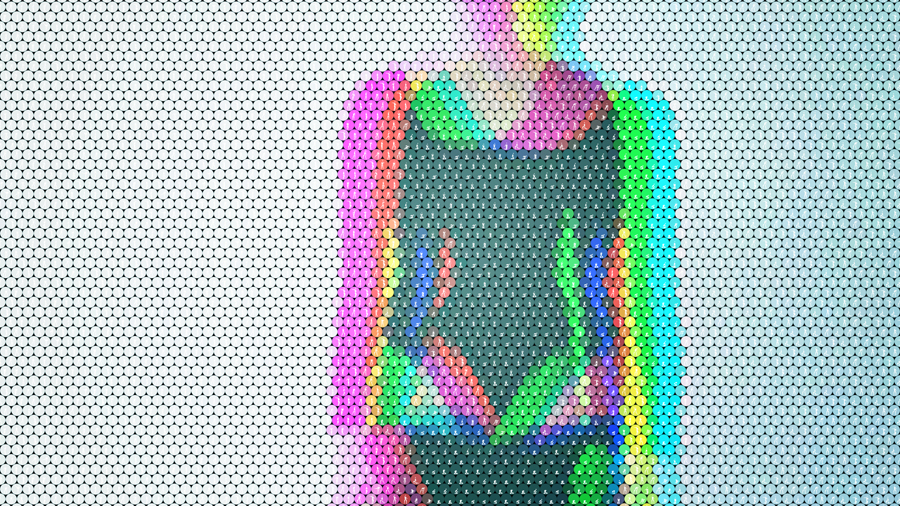 Photo Cred - Coleurs.Separees
La Répétition
Where: J.A. De Seve Theatre
When: July 20th at 9:15 p.m.
If you're looking for a visually stunning and experimental film, look no further. The animated short captures the dancer Anabel Gagnon preparing for her next performance. It's a fascinating study of the work artists put in to create a result they'll be proud to share with the general public.
Akira Project (as part of
DJ XL5's Helluva Zappin' Party)
Where: Concordia Hall Theatre
When: July 31st at 9:15 p.m.
A live-action adaptation of the classic anime film Akira has been a Hollywood rumour for years now, but local director Nguyen-Anh Nguyen took matters into his own hands with this crowd-sourced short. It's an imaginary trailer for a live-action movie that we can only dream about existing, at least for now. Experience the short alongside many others in the massive mash-up that will be DJ XL5's Helluva Zappin' Party.
For more, follow Max on Twitter @mbled210