The perfect 'survival guide' to saving money!
We all know the struggle of wanting to go ALL OUT for the summer, but not being able to because we are on a tight budget thanks to school and other expenses. WELL, I have some damn good news for you! Being someone who has lived in Montreal their whole life, I sure do know how to slay the summer while being on a budget. SO, to help us all out, I have decided to write this little "survival guide" that will help you stay on budget while having a LIT summer 2017. 
READ ALSO: You Can Now Get 10L Sangria Pitchers In Montreal
Down below, you can expect to find cheap activities, restaurants, bars, brunch spots, short road trips, and Airbnbs that will actually help you save money while having a memorable summer. The short road trips will usually only cost you in gas money and the airbnbs are all under $50/night so you can rent it with your friends for a weekend 'staycation' getaway! I promise, if you follow some of these tips, you will find more money in your bank account and less stress in your life!
For More Things To Do In Montreal, Check The Links Below:
For Activities To Do On A Budget, Click Next
1. Go Rock Climbing
via @tite_dree
For that fit date of yours, why not surprise them and finally take your bae to Allez Up! Here you two can rock climb your night away and have a blast as you work out that upper body. It is honestly super fun and a great way to try something new without traveling very far or spending over $20.
2. Go To Au Pied-du-Courant
via @montreall
Au Pied-du-Courant is a Montreal boardwalk village where you can chill out in the sand and enjoy the sun! Each day features a special theme in 2017 so be sure to check some of them out!
3. Go To The Botanical Gardens
via @tjamele
Step into the almost spa-like setting of the Main Exhibition Greenhouse, where the heat and the flowers' sweet fragrance help you forget winter. You are surrounded by lush greenery, filling you with a sense of lightness and inviting you to relax while enjoying summer and the blooming flowers!
4. Go to The Clock Tower Beach
via @odetowonder
Drink up on a "pretend" beach as you soak up the sun this summer! Not only can you get bottles, but you can also enjoy some fun summer activities like tanning, volleyball, and much more.
5. Check Out Atwater Market
via @dentellefleurs
Atwater Market is an absolute must visit location in Montreal! You will be surprised on just how much time you can spend at Atwater Market, especially in the nice summer weather! It is literally my happy place and the variety of restaurants always serve fresh food. Plus, you can just walk around all day and enjoy a nice bike ride along the Lachine Canal or buy plants and flowers (cacti YAS)!
6. Piknic Electronik
via @laueauger
Piknic Eletronik is always a great way to listen to music, relax, and enjoy Montreal with your bae! Not only is it cheap since tickets are only $15, but you can invite all your friends as well without reservation and drink up. Trust me, you will dance the night away every Sunday!
7.Au Sommet Place Ville Marie
via @heynadine
PRICE: $15-19 EACH
See all of Montreal this summer with your BFFs for cheap! The Montreal Observatory is absolutely stunning and very romantic especially if you go at night under the stars.
8. Montreal Museum Of Fine Arts
via @mjnicefield
PRICE: $15 EACH
1380 Rue Sherbrooke O, Montréal, QC H3G 1J5
The Montreal Museum of Fine Arts contains beautiful art galleries with hundreds of paintings and archeological artifacts such as mosaics, frescoes, statues, and much more! It's a great way to enjoy a lovely day.
For Restaurants To Go To On A Budget, Click Next
1. Warehouse
via @toutpardeux
Le Warehouse only serves meals of $5... Yes, you heard correctly! So, instead of spending an arm and a leg at an expensive restaurant with your BFF, you should just bring them here! Not only is it super cheap, but also amazing whether it be the ambiance or food!
2.Cafe Parvis
via @fred.gendron
This cafe is perfect for when you just want a naturally cute vibe. It is adorable and absolutely perfect for a quiet time with plants around every corner. So, when you just need to get a nice snack without the rush and hurry of a regular cafe, this is the place for you! They even have an all white terrasse.
3. LOV
via @lovrestaurant
LOV is a great location for a hip anniversary celebration! If you happen to be one of those vegan couples, then this restaurant is great on a casual day! They are an organic restaurant that places an emphasis on locally grown, wholesome ingredients, plus delicious vegan dishes for under $20!
4. Cafe Santropol
via @lo.king_
Have a "garden breakfast" from 8am-11pm at Cafe Santropol or a lunch for under $10! You can enjoy a light snack in their backyard garden that will absolutely blow your mind away!
5. Koa Lua
via @alexinmtl
1446 Saint-Catherine St W / 1212 Union Ave
Koa Lua just screams VACATION! This restaurant is like a secret vacation spot for you to chill at and eat dinner! The ambiance is bright AF and perfect for a A1 night out at under $20 for poke bowls.
6. Qing Hua Dumplings
via @dahllii
Let's be honest, dumplings are absolutely delicious! At Qing Hua you can get a basked of steamed dumplings for $15 in Downtown Montreal. COUNT ME IN PLEASE!
7. Venice MTL
via @magazine_vero
Feel like you stepped right off the metro and into Venice beach when you enter Venice MTL! Their food is fresh and delicious for a crazy affordable anniversary that neither of you will forget.
8. La Habanera
via @andreanneforget
Alright, for a 514% lowkey night, you guys really need to check out this Cuban restaurant in downtown Montreal. The food is BOMB, the decor has a modern twist, and their drinks are pretty insane for a good price!
For Bars To Go To On A Budget, Click Next
Bars To Go To On A Budget:
1. The Floating Boat Cafe
via @narcity_montreal
PRICE: $22 A Bottle
Atwater Market
Ok, you ABSOLUTELY MUST check out Canal Lounge Cafe Flottant! For only $22 you can have a FULL bottle of sangria as you sit on the terrasse located on top of the boat. It is absolutely stunning and my new favorite place!
2. Terrasse St. Ambroise
via @__gobii__
For that sporty girlfriend who loves biking then it is your mission to take her to Terrasse St. Ambroise! Terrasse St. Ambroise is actually amazing. I was there just this weekend with my boyfriend after we biked along the water near Atwater market. The beer is superb and they have great snack food. All you have to do is bike there and lock up your bikes as you go enjoy a beautiful night with your girlfriend at a chill bar.
3.Grenade
Have some bao buns and chill on Grenade's gorgeous modern terrasse! This spot is highkey perfect for a nice drink on a warm summer night. I mean just look at that decor!
4. Winnie's
via @empowherglobal
If you enjoy going out during the week to downtown Montreal, than Winnie's is the place for you! It's location is perfect and it's prices are even better! They have great specials like on Tuesdays where they have 2$ shots! It's a great place to get drunk on a budget this summer with your friends since it is always bumping.
via @racheldc55
Thanks to La P'tite Grenouille de Montréal ( located on 3435 Boul St-Laurent), we can all quench our thirsts this summer with a legit 'swimming pool of sangria' that you can order all summer. They offer 4 different flavors that include Tequila, Captain Morgan, Palm Bay, and Jack Daniels🍹. They even have $50 bottle service and 20 shots for $20!
6.  Dieu Du Cie
via @odessademarco
For some exotic beer only $5.75-6.50 a pint then Dieu Du Ciel is the place to be. Not only are their prices on point but so is their quality of beer! You can also enjoy their cute terasse in the summer time for a nice refreshing drink. You will be saying "oh mon Dieu!" after every sip!
7. Alexandraplatz
via @annstyfe
When it's a hot summer day and your looking for a cute terasse to enjoy some nice drinks at, then I recommend heading to the secret Alexandraplatz! They have great drinks that are within your budget and the ambiance is fun and light hearted. Most importantly, you get that hipster vibe!
For Brunch Spots To Go To On A Budget , Click Next
1. Le Vieux Saint-Laurent
via @aline2602
For a cheap but amazing classic breakfast in Montreal, check out Le Vieux St-Laurent! You can order a classic egg, bacon, and toast meal for under $10, including coffee. It doesn't get much better than this.
2. Fairmount Bagel
via @ridinginajet
One of Montreal's most classic bagel institutions, it's no surprise that Fairmount gets the salmon and lox so fantastically correct. It's hot, fresh, and ready for eating!
3. Vieux Velo
via @yesmini_
For some 80's style breakfast in the Plateau, check out Vieux Velo! This cafe is cute AF and so cheap. The food is 514% delicious without breaking the bank. It is deficiently a must try breakfast spot!
4. Olive & Gourmando
via @2torontofoodies
Located in the historic Old Montreal, Olive et Gourmando offers simple and healthy brunch options. I suggest siting down for some fancy dishes! Now, this isn't a brunch location that you come dressed to for the Oscar's, but it is definitely a place that serve bomb and fancy dishes!
5. Régine Café
via @ello_its_ellie
This French style café is perfect for a classy brunch in Montreal. I strongly recommend coming here if you are with a big group of your girlfriends! The restaurant is decorated with in vintage Parisian and it's honestly a lovely place where you can dress up!
6. Prohibition
via @piggymeimeii
​​​​​​5764 Avenue de Monkland
Dress it up, or dress it down at Prohibition in Montreal! Not only do they serve the best brunch comfort food in town, but they also do it with style. this is 514% A place you want to be at in the morning!
7. Restaurant L'Avenue
If you want to feel like you are in the retro '90s enjoying a yummy brunch, then I suggest coming to L'Avenue! It's a great location to feel like you are in an old 90's movie while enjoying 3D murals. The food is great and it's the perfect location to laugh and catch up with your friends before the holidays.
8. Festin De Babette
via @melaniedsj
For a gourmet breakfast, this is the place for you! They offer smoked salmon eggs benedict that are accompanied by a salad, scalloped potatoes, soup and chocolate mousse for those who just can't get enough of breakfast food. The food is heavenly and you will be filled up pretty quick.
For Short Road Trips To Go Try On A Budget , Click Next
Short Road Trips To Go Try On A Budget :
1. Island Line Trail
via @s.ahlstrand
Distance: 2 Hours Away
Island Line Trail, also known asColchester Causeway, is located in Vermont and it is an epic 14-mile rail trail that you and your bike loving bae must try! I swear it is almost too epic to handle. You can see all of Lake Champlain as you fly over the water on your bike and create memories of a life time!
via @i.love_new.york
Distance: 2 Hours Away
Ausable Chasm is located in New-York and it will actually take you less time to drive there than driving to Mont-Tremblant. It's a 2 mile long sandstone gorge with a river that runs through it that features some spectacular rock formations. You and your BFF can enjou adventure trails, night tours, rock climbing, ziplines, rappelling, rafting and of course lazy river tubing all for $30!
3. High Falls Park Campground
via @idletheorybus
Distance: 1 Hour Away
If you and your BFF love camping and stunning waterfalls , then High Falls Park is the place for you! It's literally an hour away and trust me, it is worth the short drive.
4. Rattlesnake Pool
via @livetobefit13
Distance: 2 Hours Away
Rattlesnake Pool is located in Maine and can be found at Evans Notch. It is most known for it's sapphire waters that make you feel like you are on a tropical vacation! It is surrounded by the beautiful forest and I swear it is almost too stunning to handle!
5. Parc de la Gorge
via @gene_vie_eve
Distance: 2 Hours Away
If you head to Coaticook with your BFF, then Parc de la Gorge is definitely a site you will want to see! If heights are your thing, then be sure to drag your friend out to this AMAZING suspension bridge! It's great for hiking and enjoying the hopefully sunny weather!
via @seeswim
Distance: 2 hours away
Warren Falls is an epic natural spring in Vermont that is only a 2 hour road trip away from Montreal! It is located in Mad River Valley with great swimming holes, cliff jumping, waterfalls, and relaxation.
For Airbnbs To Rent On A Budget, Click Next
Airbnbs To Rent On A Budget:
1. Spacious Room // Rosemont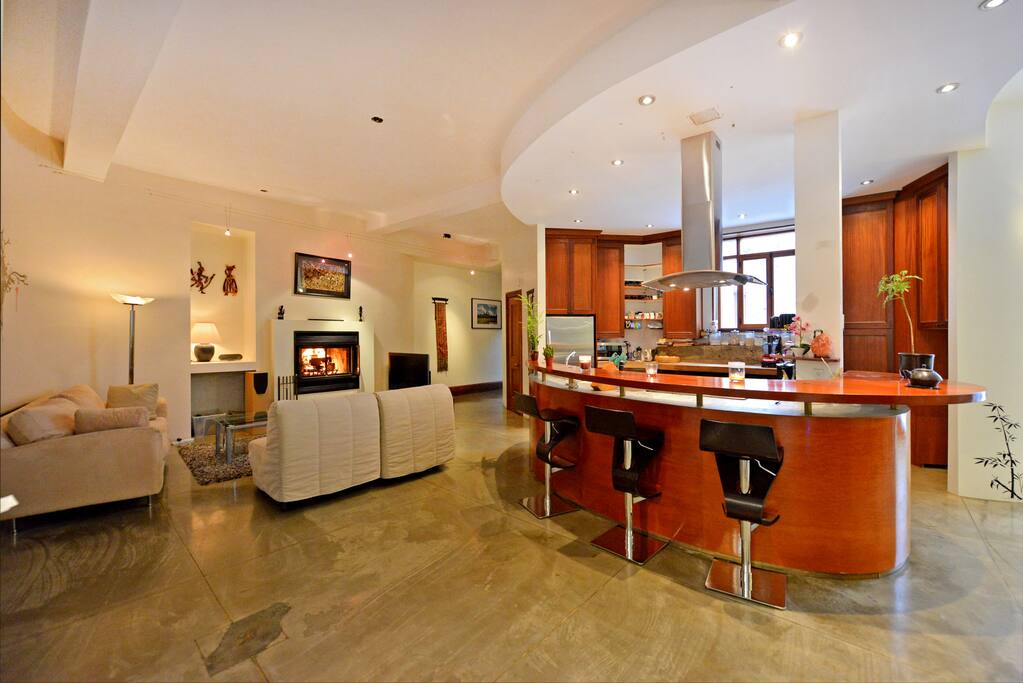 Via Airbnb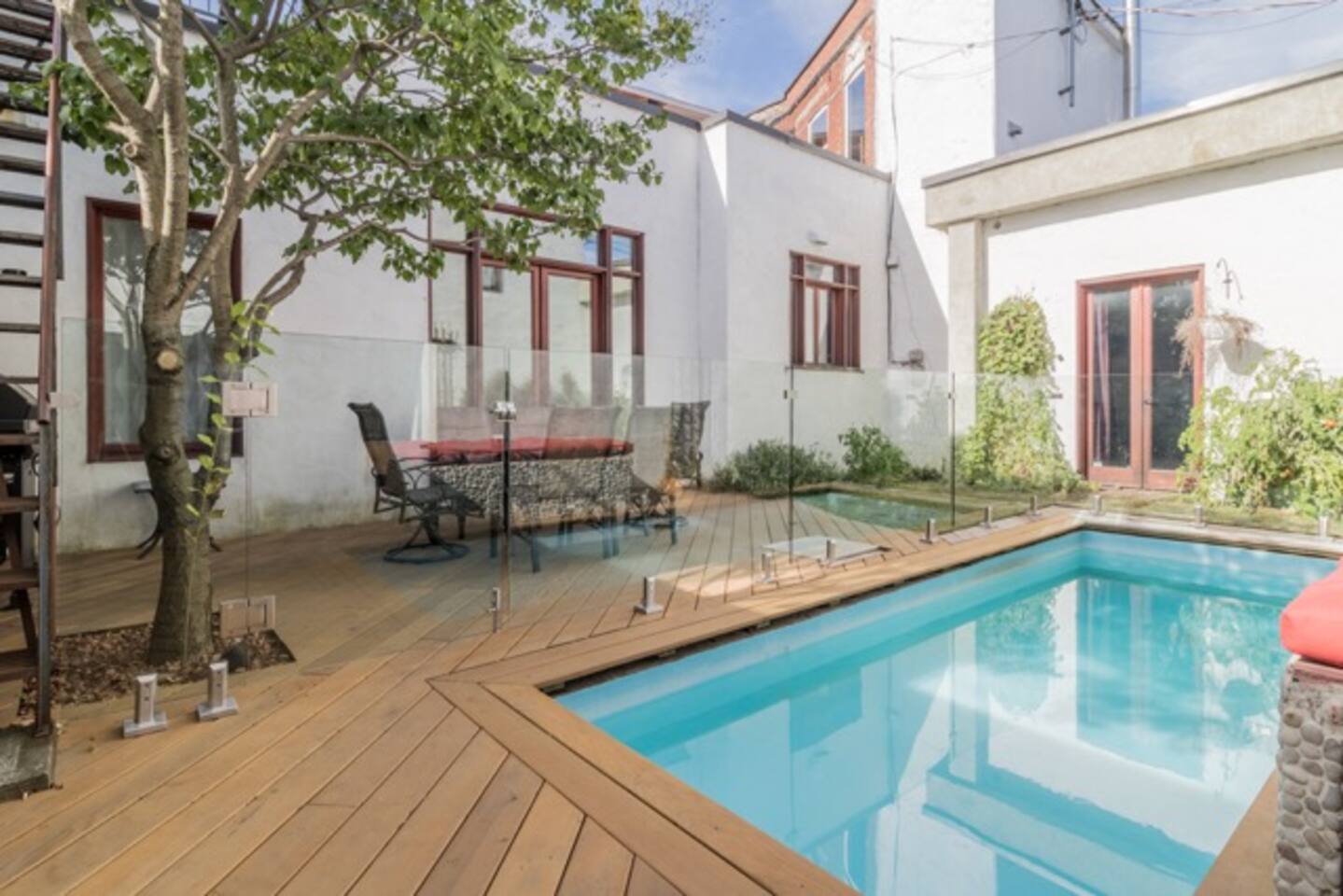 Via Airbnb
Features:

1 bedrooms, 1 bathrooms
8 minutes from the metro
Close to bars, restaurants, grocery stores.

Accommodates: 2 people
Rental Fee: $29/night
2. Modern Plant Apartment // Mile-End
Via Airbnb
Via Airbnb
Features:

1 bedrooms, 1 bathrooms
Near Laurier Subway
Center of the Plateau

Accommodates: 2 people
Rental Fee: $42/night
3.Modern Condo // Downtown
Features:

1 bedrooms, 1 bathrooms
rooftop terrace
jacuzzi
Just steps away from public transportation, grocery stores, the highway and much more

Accommodates: 2 people
Rental Fee: $41/night
4.Bright & Spacious Loft
Features:
1 bedrooms
1 bathrooms
5 mins to Downtown Montreal
Accommodates: 8 people
Rental Fee: $47/night
5. Modern Condo // Downtown
Features:
1 bedrooms, 1 bathrooms
rooftop terrace
jacuzzi
Just steps away from public transportation, grocery stores, the highway and much more
Accommodates: 2 people
Rental Fee: $41/night